Thursday, July 24, 2008
iphone 3G
"apple's iphone 3G features and price"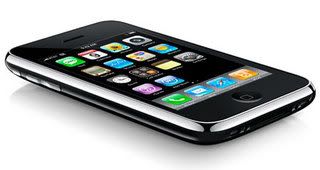 i wasn't really interested on the 1st iphone cause it was very expensive here in the philippines. For several months now, I have been eyeing to buy an ipod touch until I heard my younger brother talking about the new iphone 3G that will have its price just the same as a brand new psp. That's only around the same price as the ipod touch but with ipone i could get the combination of a phone + ipod + internet access.
I fell inlove with it more when i learned its features:
♥ available in 8GB (black) and 16GB (black or white) models.
♥ With fast 3G wireless technology, GPS, support for Microsoft Exchange ActiveSync, and the new App Store, iPhone 3G puts even more amazing features in your hands. And just like the original iPhone, it combines three products in one —a revolutionary phone, a widescreen iPod, and a breakthrough Internet device.
♥ 3G gives you fast access to the Internet and email over your cellular network. And 3G makes it easier to multitask: When connected via 3G, you can surf the web even while you're on a call.
PHONE + IPOD + INTERNET + more
♥ iPhone redefines what you can do on a mobile phone. Tap a number to make a call. Listen to voicemail in any order with Visual Voicemail.
♥ iPhone is an equally brilliant iPod. Enjoy music, videos, and more on the 3.5-inch color display and browse by album artwork with Cover Flow.
♥ Internet in Your Pocket.. features rich HTML email, Maps with GPS, and Safari — the most advanced web browser ever on a portable device.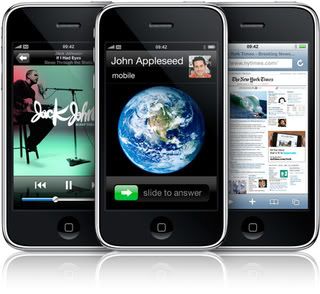 What's included in the box?
* iPhone 3G
* Stereo headset with mic
* USB power adapter
* Dock Connector to USB cable
* Documentation
* Cleaning/polishing cloth
* SIM eject tool
Specifications:
Screen size
3.5 inches (diagonal)
Screen resolution
480 x 320 pixels (163 ppi)
Input method
Multi-Touch
Storage
8GB and 16GB1
Cellular
UMTS/HSDPA (850, 1900, 2100 MHz)
GSM/EDGE (850, 900, 1800, 1900 MHz)
Wireless data
Wi-Fi (802.11b/g)
UMTS/HSDPA (850, 1900, 2100 MHz)
EDGE (850, 900, 1800, 1900 MHz)
Bluetooth 2.0 + EDR
GPS
Assisted-GPS
Camera
2.0 megapixels
Battery2
Talk time: Up to 5 hours on 3G; up to 10 hours on 2G
Standby time: Up to 300 hours
Internet use: Up to 5 hours on 3G; up to 6 hours on Wi-Fi
Video playback: Up to 7 hours
Audio playback: Up to 24 hours
Dimensions
4.5 by 2.4 by 0.48 inches
(115.5 by 62.1 by 12.3 mm)
Weight3
4.7 ounces (133 grams)
all these for only $199/$299 for 8GB/16GB, respectively.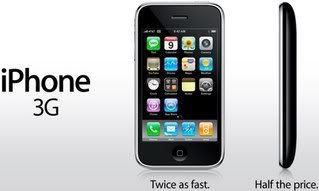 I then, immediately emailed my bro in UK to buy me since its still not available in the Philippines but already available in UK last July 11, 2008.
But, with further reading, i read that the $199/$299 price is for AT&T subscribers and the unsubsidized price abroad is 499/€569 ($773/$881) for the 8GB/16GB models.
So, it will still be expensive in Philippine Peso.
So much for my excitement. :c It would still be expensive after all :c
I still don't know the prices here in the Philippines though, I am expecting it'll still be expensive but I hope it'll be as what they say that they would make iphone 3G cheaper (with the same price as sony's PSP) ooohhh **cross my fingers**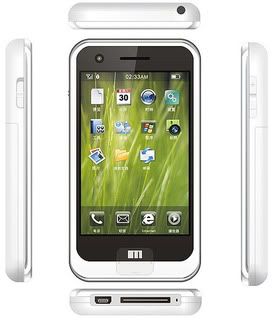 credits to: apple.com