Thursday, June 5, 2008
The BASICS of Operating Room
On June 13, 2008, I will be having my training examinations for Operating Room at DMC (Davao Medical Center). My mom says to review and scan my notes. I started this afternoon. Usually when i study, I write down notes so that whatever i have read will be retained in my head as i write it down. Since I have a computer, instead of writing down, why dont i type instead. Its much easier and faster (lol).
And i wanted it to share to whoever would benefit this blog :-)
**THIS IS
COMPILED
BY ME FROM DIFFERENT BOOKS AND REVIEW MATERIALS I HAVE**
**IF YOU ANY MISTAKES YOU FIND YOU MAY LEAVE A MESSAGE AT THE CBOX AND I WILL CORRECT IT IMMEDIATELY**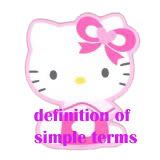 Surgery
designates the branch of medicine that encompasses preoperative care, intra operative judgment and management of post-operative care of patients
Operation
this is for correction of deformities and defects, repair of injuries, diagnosis and cure of diseases, relief of suffering and prolongation of life
Obstruction
A pathologic process that results into impairment in the flow of requiring surgery
Perforation
A pathologic process that results into rupture of an organ requiring surgery
Erosion
A pathologic process that results into wearing-off of the membrane surface requiring surgery
Asepsis
This means absence of microorganisms that causes the disease, freedom from infection; exclusion of microorganism
Sterile
A state of being free from organisms including all spores
Sterilization
The process by which all pathologic and non-pathogenic microorganisms are killed including all spores
Sterile field
Microorganism free area that can receive sterile supplies
Surgical Asepsis
Known as sterile technique, refers to those practices that keep an area or object free of all microorganisms and spores

Perioperative nursing
This is used to describe all nursing functions in the total surgical experience of the patient
Ectomy
Common suffix which means removal of an organ or gland
Rraphy
Common suffix which means repairing
Ostomy
Common suffix in surgery which means creation of an opening
Plasty
Common suffix which means formation of plastic repair
Scopy
Common suffix which means looking into
Otomy
Common suffix which means cutting into
Emergency surgery
Requires immediate surgical attention without any delay
Imperative or Urgent surgery
Surgery must be performed as much as possible within 24-48 hours
Planned surgery
Can be performed for patient's wellbeing but not absolutely necessary
Elective surgery
Scheduled completely at the preference of the patient
Optional surgery
Done only upon the request of the patient
Diagnostic surgery
A surgery that determines causes or confirms or verifies diagnosis
Curative surgery
A surgery that is done to resolve a problem
Ablative
A curative surgery that involves removal of diseased organs or tissues
Constructive
A curative surgery that involves partial or complete restoration of damaged organs

Palliative
A curative surgery that is performed to relieve symptoms of disease process without necessarily correction the disease causing symptoms