Friday, June 27, 2008
why why love
when i passed through cetw channel (chinese international channel) i ran through this series at 3 pm today (thursday)
and even though i dont understand what they were saying i think im gonna love this show.. but i dont know the title.. cause it was on chinese characters when shown on tv..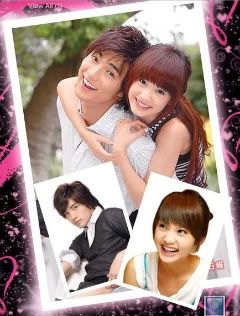 i have been looking all over this afternoon in the internet..
i went to cetw website to check out their tv sched but i cant find any..
then inisa isa ko mga chinese shows available at mysoju but i got tired sa kadami..
then i surrendered.. then late tonight as i was browsing through my friendster i saw this at my friends site..
this was her layout.. i left a comment on her site.. i bet she knows.. but i doubt she'll reply immediately..
so i posted it at my multiply account and also at my kawaii themes group hoping that somehow out of my contacts and the members of the group they know what show this is..
many replied immediately and i was very thankful..
they told me it was "Devil Beside you"
i immediately checked out crunchyroll if this is available and thankfully it was
out of the pictures they were really the stars..
but the review says different
i bookmarked the page cause ill be watching the show next week
then just awhile ago a there's a new reply from my kawaii theme group and they both said it is either it is "devil beside you" or "why why love" because the actors on the picture appeared on both films.
so i checked out crunchyroll again and they do have that show and they were also indeed the actors of the show..
i read the review and i told myself.. this is iT! this is what i was looking for! :-)
the review says:
"Tong Jia Di needs a life besides work, paying down family debt, and more work. So her best friend Jiang Xiao Nan sneaks in a "Love" coupon in Jia Di's raffle box praying that the lucky guy who draws it will sweep Jia Di off her feet. As it so happens, Huo Yan, the compassionate manager Jia Di has secret crush on, is the lucky guy. But, tho' the prince can exchange the coupon for Cinderella's love, it doesn't mean he will, especially when his devilish younger brother is determined to exchange his "Master/Angel" coupon for her servitude. --DramaWiki"
the episode i saw at cetw.. was the lead actress was letting the lead actor and his company drew coupons from her box..
im really happy and satisfied that my search is over and i can finally watch the show..
hope its worth watching! :-)
kikai thought hard on 8:11 PM.
0 comments




dont compare
im embarrassed to say but im the kind of person who compares myself a lot with others.. i know its wrong.. but i cant help it.. i mean its like a reflex when i see someone i wanted to be like..
and in some point or another.. this negative characteristic of mine tend to lead me to depression later on..
----------------------------------------------------------------------------------
Move away from the need to compare yourself to others. And you will move rapidly toward higher and higher levels of effectiveness and fulfillment.
Many of the things you see as limitations and deficiencies in your own life are not really limitations at all. They're created in your imagination when you compare yourself to others.
Don't waste your time focusing on what others have that you don't have. Instead, put your time and energy into making the most of the unique and valuable knowledge, skills and resources that you do have available to you.
Don't allow your energy to be drained away by worrying about what others will think. Simply be your authentic best, and keep in mind that what anyone else thinks about you is not your concern.
It's great when you can learn from others, find joy in being with others, and cooperate with others to achieve mutually beneficial results. Just don't allow your life to become bogged down by constantly comparing its details with the lives of those around you.
You are one of a kind. The more completely you celebrate and fulfill that reality, the more satisfying and rewarding life will be.
kikai thought hard on 7:59 PM.
0 comments




are nurses rich?
i was browsing through the bulletin of my friendster account when i ran through one of the surveys posted by fred :-)
this one struck me real hard.. tama nga naman.. hahaha..
"9.naniniwala ka ba na pag nagnurse ka yayaman ka?
> UU kung maningkamot ka.. db? d mn muduol ang graxa sa imo kung magtambay lng..hehe"
when i was still in highschool.. older relatives of mine keep saying na mgnursing ka para mgabroad ka at yayaman ka..
at pinanindigan ko un till i was in college.. maski nangugat na akong ulo dahil sa kalisod sa kakapoy.. sa ka complicated sa sked.. sa wlang tulog..
one motivation: "kada pawis one dollar!"
pagkapasa nko ug board! yey! hapi hapi.. kay naa pa kwarta galing sa mga regalo regalo..peste pagkatagalan... asa naman ang dollars ani??
hahaha
kya nga tama nga naman ang sinabi.. kung andito lng ako sa bahay at wlang ginagwa hindi tlga ako mgkapera.. hahaha..
and looking for a job isnt the only "hago" u have to give..
gawd! kahirap mghanap ng work AS A NURSE sa pinas..
and the "hago" doesnt end there..
u have to work ur ass of again to go abroad..
and working abroad AS A NURSe aint that easy as it sounds..
u have to PASS EXAMS, apply for work with millions of competencies, not to mention the financial burden sa kadami dami ng bayaran..
and i still dont know what struggle lies when ur already "there"...
still.. its way much harder than the way i described it here...
sooo... i decided.. i have to make a move at maningkamot nko..
ang tanong: WHERE THE HELL DO I START?
waaahhh... matulog nlng ko..
kikai thought hard on 7:57 PM.
0 comments



Thursday, June 26, 2008
Unhappiness
People say that when you are confused..
just go with the one that makes you happy.
But what if neither of the choices lead you to happiness?
It isn't as easy as saying does it?
If I'm with him i feel hatred, anger.. unhappy.
But if I leave him.. I'll feel lonely, empty.. unhappy.
kikai thought hard on 5:54 PM.
0 comments



Saturday, June 21, 2008
typhoon frank in town
i woke up at 3:30 am coz of this fckin dysmenorhea.. and grabeh ka wild ng hangin.. wla may ulan pero grabeh gyud ang hangin.. ang puno sobra ba sa sway ang ginahimo.. loka! its freaky outside.. uber!
well, according to the news yesterday night, typhoon frank wont be hitting davao city. but still, we can feel the rain and the crazy wind and see the dark cloudy sky here..
kikai thought hard on 4:33 AM.
0 comments



Thursday, June 19, 2008
my house and my whines (a life changing experience)
I was never contented of the things I have, whether it be gadgets, clothes, shoes, house or whatever material things there is.
When I was still living at our old house, I was never contented on the small place it has, the tiny living room, my oh so small bedroom which I have to share, the very congested closet that it makes my ironed clothes wrinkle, and that it only has 1 bathroom which I have to share with my 3 other siblings at 6 in the morning fighting who would take the bath first. These are only my major complaints I had back then.
Now, we've been blessed with a much bigger house, very spacious living room, beautiful kitchen, although I have to share the bedroom I'm in, it is way much larger and very spacious, and the closet I now had is huge, with the same clothes I got back then, I still have a lot more space for new ones.
But was I contented now that all my whines back then were already resolved?
No! I have new complaints, to start off, our neighbor is very loud, at 7 am they put on this "bang-katabs" radio station that I find myself awake at 9 am leaving me unable to get back to sleep with the noise and more so.. do nothing. Also, I find it uncomfortable and annoying that the sun is glaring at my face at my room or even in the living room while chilling out, because of the large window panes that all of the sun shine gets in our house.
When will all my complaints ever vanish? Shall I be complaining for the rest of my life? When will I ever be contented of what I have?
Then, last night, a certain news made me appreciate the bounty of my home.
Because of the recent heavy rains flooding the city, a friend of mine lost a home. Let me expound on this.
This friend of mine, is living on a century-old wooden house and because of the age, the wooden floor disintegrated. 2 years back, it started at the floor at the back of the house, and because of their poor financial status they cannot repair it, and slowly, inches by inches, the damage worsen. Until this year that even more heavy rain and flood came about, the entire wooden floor of the house fell apart. Last night, I receive the news that he/she and his/her family is now staying at the balcony of the house where in the floor is cemented (you might wonder why, this balcony was later added to the house, might be only 10 year old).
Soft hearted that I am, I was easily moved by the news, that it made me cheeks wet with tears, thinking, that he/she together with his/her family, with only a floor and a roof with no walls , they are now living in an open space. With the rain still pouring every day, with the cold breeze, with the mosquitoes plaguing the night, how can he/she live with that?
If I was in his/her shoes, how can I live with that?
I cuddled on my blanket tightly, stared at the ceiling of my 4 poster room, feeling the cold wind breezing through the window, I realized the value of this house, and whatever things that this house lacks in satisfying me, at least it's keeping me safe from storm (literally and figuratively). Then I closed my eyes and I thanked God for giving me this home. And that I will thank my mom and dad for buying this lot and building this house and for keeping me safe. And since I can't do anything about the house of this friend of mine, prayer is the only thing I can give.
Note: The name of my friend will be kept anonymous by my will.
** i would have never learn this lesson unless this things happen in my life, but shall i wait until i get homeless or my phone will be lost or the computer will be damaged (coz i always wanted a new samsung cp and an apple ibook) or whatever things i am now blessed with gets lost? i dont think so!**
greatest lesson learned! -- be contented -- i hope ill remember this experience always so that id be constantly reminded and really change**
kikai thought hard on 10:52 PM.
0 comments



Thursday, June 5, 2008
friendster vs. multiply
i have been with friendster for 4 years now. I was addicted to friendster during its peak days. here in the philippines, everybody if not, has friendster accounts. It is one of the ticket to be in the in crowd. The more friends you got the more popular you become. Usually, the hot chicks, the pretty girls or the hot guys get to have more friend request and become more popular even to those they are not acquainted with, nonetheless, including people halfway across the globe.
You wouldnt dare posting private pictures or pictures or blogs that are for your friends eyes only, because not only your friend will see this, but the entire friendster around the world as well.
When i first heard multiply on 2006, my first impression was: "ah! another networking wannabe". back then, there were only hundreds of people who has a multiply account. it wasnt such a hit to to the crowd.
but on 2007, it suddenly became a hit, i made a new account last august 2007 and ever since, i have been updating my blogs and keep on uploading MORE pictures neglecting my friendster account. All my photos are stored at my multiply account, a second copy next to the one i stored at my hard drive. And i dont have to worry about strangers looking at my private photos or blogs cause i can decide whether i would show it to everyone or to few personal friends.
Blogging is more interactive in multiply, you can post comments on your friends blogs and they can post comments on your blog and reply to each others posts. just like IMs (instant messaging) .the comment box is updated very fast.
and you can filter your friends, separate from your family, colleagues, business contacts and to mere online buddies.
indeed! Multiply makes it easy to create, share and discuss your blog, photos, and videos
with more of the people you know, and fewer of the people you don't.
kikai thought hard on 5:05 AM.
0 comments




couple or trouble
COUPLE OR TROUBLE (fantasy couple)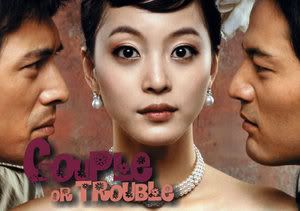 * Alternative Title: 환상의 커플 / Fantasy Couple / Couple Of Fantasy
* Genre: Comedy, Romance
* Film Date: October, 2006
* Korea Casts:
Han Ye Seul, Jung Soo Young, Kim Jung Wook, Kim Kwang Kyo, Kim Sung Min, Kim Tae Yoon, Lee Mi Young, Lee Suk Min, Oh Ji Ho, Park Han Byul, Park Joon Mok
This series is based on the 1987 American movie Overboard. Anna Jo (Han Ye Seul) is a rude, feisty, and audacious American-bred heiress who can never be satisfied. She returns to Korea only to continue being a controlling wife to her already cowardly husband, Billy Park (Kim Sung Min). When her yacht gets stuck for repairs, she hires local handyman Jang Chul Soo (Oh Ji Ho) to fix her shower, but when they have a heated spat over her dissatisfaction and non payment, she pushes him overboard and dunks his tools into the ocean right along with him. Later, after a quarrel with Billy that threatens to end their marriage, she herself gets drunkenly pitched overboard and falls victim to a bad case of amnesia.
taken from
mysoju.com
I have finished watching this show twice! i love repeating it all over again and again! i just love the story especially the comedy and oh! the lead actress is pretty but the lead actor is soooo damn HOT!!!!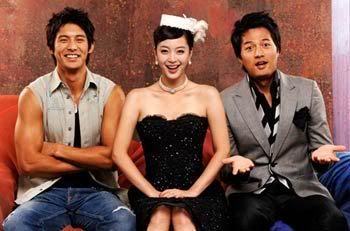 see the biceps?? then youre gonna drool over his abs! watch the show!
i love the soundtrack as well
you may listen at them taken from
here

kikai thought hard on 3:55 AM.
0 comments




The BASICS of Operating Room
On June 13, 2008, I will be having my training examinations for Operating Room at DMC (Davao Medical Center). My mom says to review and scan my notes. I started this afternoon. Usually when i study, I write down notes so that whatever i have read will be retained in my head as i write it down. Since I have a computer, instead of writing down, why dont i type instead. Its much easier and faster (lol).
And i wanted it to share to whoever would benefit this blog :-)
**THIS IS
COMPILED
BY ME FROM DIFFERENT BOOKS AND REVIEW MATERIALS I HAVE**
**IF YOU ANY MISTAKES YOU FIND YOU MAY LEAVE A MESSAGE AT THE CBOX AND I WILL CORRECT IT IMMEDIATELY**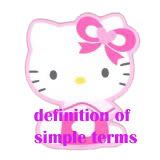 Surgery
designates the branch of medicine that encompasses preoperative care, intra operative judgment and management of post-operative care of patients
Operation
this is for correction of deformities and defects, repair of injuries, diagnosis and cure of diseases, relief of suffering and prolongation of life
Obstruction
A pathologic process that results into impairment in the flow of requiring surgery
Perforation
A pathologic process that results into rupture of an organ requiring surgery
Erosion
A pathologic process that results into wearing-off of the membrane surface requiring surgery
Asepsis
This means absence of microorganisms that causes the disease, freedom from infection; exclusion of microorganism
Sterile
A state of being free from organisms including all spores
Sterilization
The process by which all pathologic and non-pathogenic microorganisms are killed including all spores
Sterile field
Microorganism free area that can receive sterile supplies
Surgical Asepsis
Known as sterile technique, refers to those practices that keep an area or object free of all microorganisms and spores

Perioperative nursing
This is used to describe all nursing functions in the total surgical experience of the patient
Ectomy
Common suffix which means removal of an organ or gland
Rraphy
Common suffix which means repairing
Ostomy
Common suffix in surgery which means creation of an opening
Plasty
Common suffix which means formation of plastic repair
Scopy
Common suffix which means looking into
Otomy
Common suffix which means cutting into
Emergency surgery
Requires immediate surgical attention without any delay
Imperative or Urgent surgery
Surgery must be performed as much as possible within 24-48 hours
Planned surgery
Can be performed for patient's wellbeing but not absolutely necessary
Elective surgery
Scheduled completely at the preference of the patient
Optional surgery
Done only upon the request of the patient
Diagnostic surgery
A surgery that determines causes or confirms or verifies diagnosis
Curative surgery
A surgery that is done to resolve a problem
Ablative
A curative surgery that involves removal of diseased organs or tissues
Constructive
A curative surgery that involves partial or complete restoration of damaged organs

Palliative
A curative surgery that is performed to relieve symptoms of disease process without necessarily correction the disease causing symptoms
kikai thought hard on 2:49 AM.
0 comments



Wednesday, June 4, 2008
INNOCENT LIFE: a futuristic harvest moon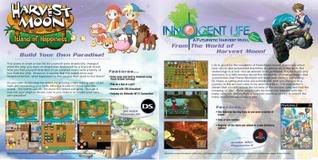 i think 3 years ago, i started playing Harvest Moon: friends at Mineral town with my gameboy advance SP. then, i found out that there was a girl version of that game which is called harvest moon: More friends at mineral town.
Last year, i had sony Play Station Portable (PSP). I stopped playing Harvest moon at my gameboy advance and started to play INNOCENT LIFE: a futuristic harvest moon.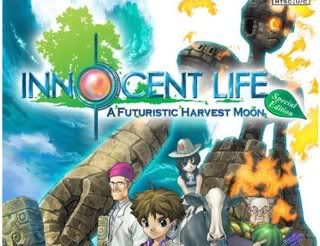 At first I didnt like it, knowing that the main character (which is YOU) is a robot. unlike the harvest moon which is a human.
SPOILER ALERT!!!
you were created by dr. hope (the great scientist in volcano town situated at the south west of heartflame island. u werent the 1st robot to be created by dr. hope but you were the 1st successful one.
he sends you to easter ruins where you will live, grow crops and flowers, raise livestocks, harvest from the forest, etc.
your main goal is to stop the volcano from erupting to save the people of volcano town by using the water spirit to calm the fire spirit with the help of the forest spirit.
in achieving this, you will have to collect gems unfolding the paths to the spirts.
by raising the farm and helping the people of volcano town stop the eruption, you will gain points and become more human :-)
[[IM STILL PLAYING THE GAME, currently on autumn of the 1st year, so keep in touch and ill be updating soon]]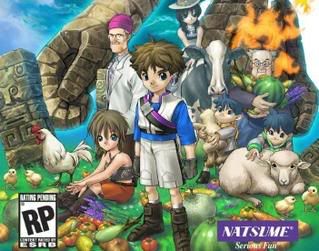 kikai thought hard on 4:17 AM.
0 comments