Thursday, June 5, 2008
couple or trouble
COUPLE OR TROUBLE (fantasy couple)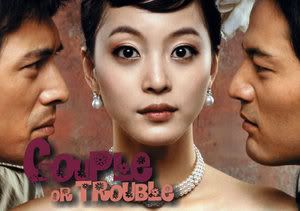 * Alternative Title: 환상의 커플 / Fantasy Couple / Couple Of Fantasy
* Genre: Comedy, Romance
* Film Date: October, 2006
* Korea Casts:
Han Ye Seul, Jung Soo Young, Kim Jung Wook, Kim Kwang Kyo, Kim Sung Min, Kim Tae Yoon, Lee Mi Young, Lee Suk Min, Oh Ji Ho, Park Han Byul, Park Joon Mok
This series is based on the 1987 American movie Overboard. Anna Jo (Han Ye Seul) is a rude, feisty, and audacious American-bred heiress who can never be satisfied. She returns to Korea only to continue being a controlling wife to her already cowardly husband, Billy Park (Kim Sung Min). When her yacht gets stuck for repairs, she hires local handyman Jang Chul Soo (Oh Ji Ho) to fix her shower, but when they have a heated spat over her dissatisfaction and non payment, she pushes him overboard and dunks his tools into the ocean right along with him. Later, after a quarrel with Billy that threatens to end their marriage, she herself gets drunkenly pitched overboard and falls victim to a bad case of amnesia.
taken from
mysoju.com
I have finished watching this show twice! i love repeating it all over again and again! i just love the story especially the comedy and oh! the lead actress is pretty but the lead actor is soooo damn HOT!!!!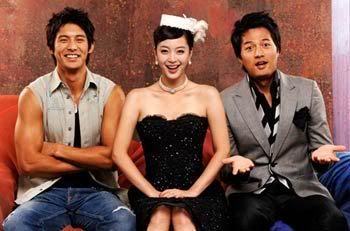 see the biceps?? then youre gonna drool over his abs! watch the show!
i love the soundtrack as well
you may listen at them taken from
here