Friday, June 27, 2008
why why love
when i passed through cetw channel (chinese international channel) i ran through this series at 3 pm today (thursday)
and even though i dont understand what they were saying i think im gonna love this show.. but i dont know the title.. cause it was on chinese characters when shown on tv..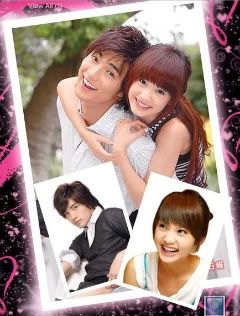 i have been looking all over this afternoon in the internet..
i went to cetw website to check out their tv sched but i cant find any..
then inisa isa ko mga chinese shows available at mysoju but i got tired sa kadami..
then i surrendered.. then late tonight as i was browsing through my friendster i saw this at my friends site..
this was her layout.. i left a comment on her site.. i bet she knows.. but i doubt she'll reply immediately..
so i posted it at my multiply account and also at my kawaii themes group hoping that somehow out of my contacts and the members of the group they know what show this is..
many replied immediately and i was very thankful..
they told me it was "Devil Beside you"
i immediately checked out crunchyroll if this is available and thankfully it was
out of the pictures they were really the stars..
but the review says different
i bookmarked the page cause ill be watching the show next week
then just awhile ago a there's a new reply from my kawaii theme group and they both said it is either it is "devil beside you" or "why why love" because the actors on the picture appeared on both films.
so i checked out crunchyroll again and they do have that show and they were also indeed the actors of the show..
i read the review and i told myself.. this is iT! this is what i was looking for! :-)
the review says:
"Tong Jia Di needs a life besides work, paying down family debt, and more work. So her best friend Jiang Xiao Nan sneaks in a "Love" coupon in Jia Di's raffle box praying that the lucky guy who draws it will sweep Jia Di off her feet. As it so happens, Huo Yan, the compassionate manager Jia Di has secret crush on, is the lucky guy. But, tho' the prince can exchange the coupon for Cinderella's love, it doesn't mean he will, especially when his devilish younger brother is determined to exchange his "Master/Angel" coupon for her servitude. --DramaWiki"
the episode i saw at cetw.. was the lead actress was letting the lead actor and his company drew coupons from her box..
im really happy and satisfied that my search is over and i can finally watch the show..
hope its worth watching! :-)